AGUA azul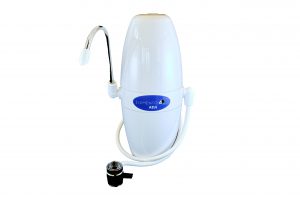 Let us advise you whether this mobile drinking water filter can be the perfect partner for you.
About the AGUA azul
We have the best solution for clean drinking water in Mallorca
Very mobile - clean water
The drinking water filter for transport or for a small wallet consisting of 2 filter cartridges with a parallel flow, which are inserted at the top and bottom. The system is closed with the housing covers.
Special Product Advantages:
High-quality double activated carbon filter. Innovative filter medium made with AQUALEN®, a modified fibre additive, protected by a patent and removes a wide range of pollutants that may be contained in the water
The high performance is also achieved by avoiding the formation of channels [so-called. Channel effect with loose granular fillings].
Quick installation on any standard faucet
Transportable for home, apartment or boat
Easy filter change
Unbeatable price/performance ratio
5-year guarantee on function if the filter is changed and used properly
Microfine security:
Examples of substances that are largely removed are heavy metal ions such as lead, iron, copper, cadmium and nickel. which may be contained in the water in domestic water pipes due to the installation.
Distributive flavouring substances
Chlorine: 100%
Organic substances: 98%
Phenol: 99%
Pesticides: 95%
Heavy metals: 98%
The Costs:
Recommended retail price: € 95
Maintenance costs: € 45
Technical Highlights:
Elegant and compact. Height without/with tap 270/290 mm
Unchanged, the optimal PH value of about 7
Housing Ø centre 118 mm
Weight, dry 980 g
Filter cartridges 2 x B200
For cold water only
Stainless steel outlet pipe, 8 mm
Connection to the tap outlet
Connection thread: M22 and M24 fine thread
Hose size: 8 mm
Max. Flow 3.5 liters / min.
Ideal flow rate 1.0 - 1.2 liters / min.
Filter change reminder with a turntable on the cover
Filter disposal for household waste
Filter change - whichever is reached first:
4000 litres withdrawal OR 6 months with chlorinated water.
Call us directly: +34 971 142 272
In a detailed conversation, we can discuss your problems and wishes, and together find the perfect solution for you.
We find the water filter, that fits you.